So here it is, Part Two of Ultimate Guitar's interview with the awesome Michael Schenker. If you're not yet caught up with Part One, then you can dive in here.
In this edition, Alec Plowman chats with Michael about his long association with Flying Vs, why chasing the rat race seldom results in great music and how Metallica's Kirk Hammett came to play on the new Michael Schenker album.
Photo by Emili Muraki
UG: In your years of playing, you've become synonymous with Flying V guitars – they've been your go-to-axe since your time in Scorpions – What was it that drew you to them?
It's like this. When I was 14 years old and I was still going to school, I had to build something in woodwork class. It ended up being a guitar, and guess what the shape was? It was a triangle. That came memory came back to me not long ago and it gave me goosebumps. It was almost like a premonition about my future life!

I never looked for the Flying V, though. The Flying V came to me. It was coincidence. One I started playing it and plugged it into my amplifier, I had a really good combination. I got so used to that guitar: it worked. And as they say, if it works, don't fix it. I never had any reason to play anything else.
UG: Live, they're your exclusive instruments, but when it comes to recording, do you ever use anything else?
Always Flying V. When I was doing "In The Midst of Beauty" for some reason, I was asked to try this guitar – I can't even remember what it was – and I played one solo with that guitar. I'm surprised there aren't pictures flying around of that. I can't even remember what song I played it on. But it really doesn't happen at all. First of all, there's no reason for me to do it. Just the thought of how I'd sit down and play a different guitar… I'm so used to having the Flying V between my legs, I don't know how I'd hold a normal guitar. Of course, an acoustic guitar is the only exception, but I had my acoustic period and I'm not really doing that anymore.

I had lots of my favorite Flying Vs stolen of course – the Chrome guitar, the Kaleidoscope, the Ying and Yang and so on. They just rebuilt me the Kaleidoscope though, and hopefully they will rebuild the rest. Hopefully, I'm going to be doing another signature one for next year's NAMM show, but that's not 100% yet.

But ultimately, the V is an instrument that ended up in my arms by circumstance and stayed with he ever since.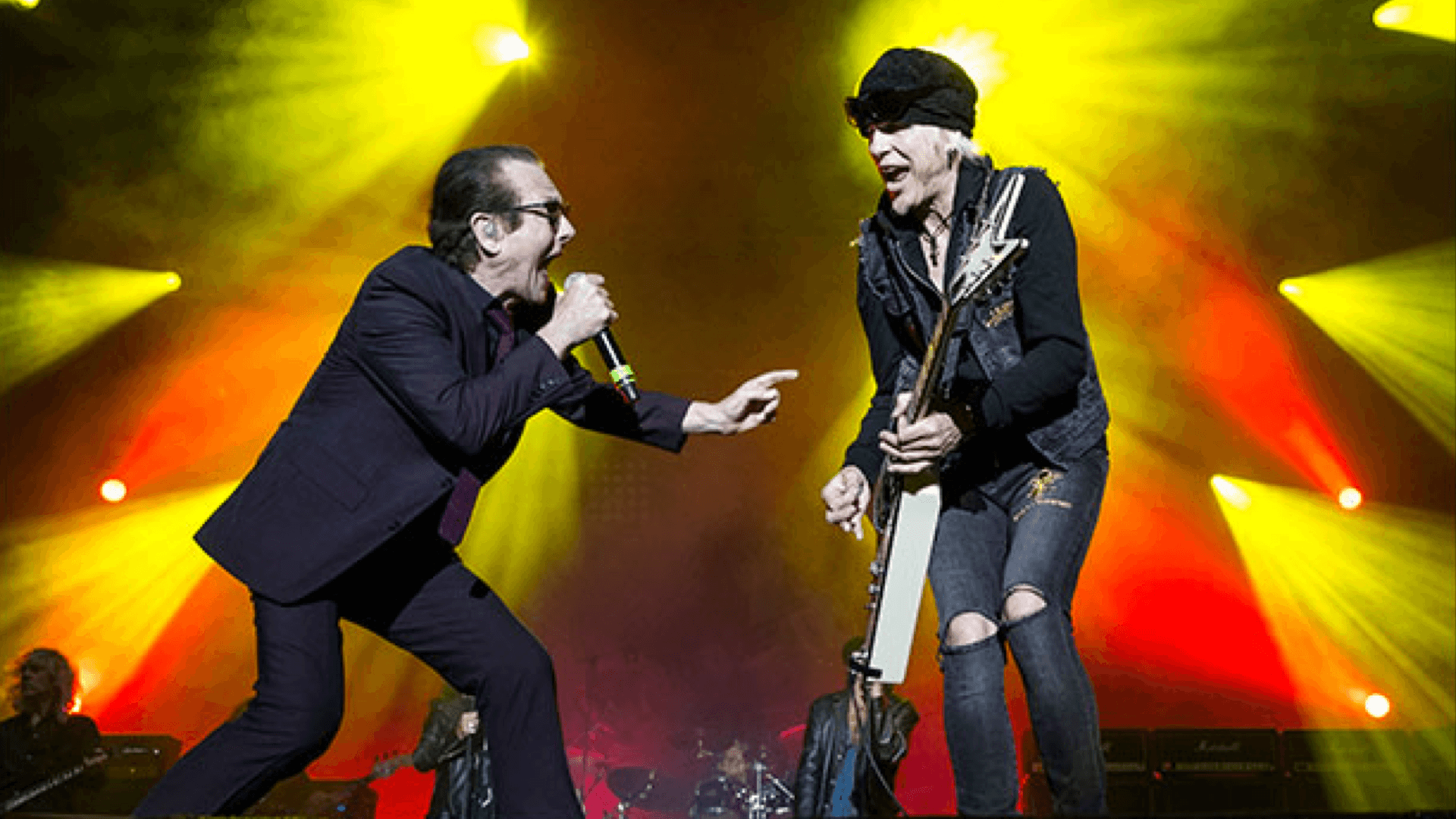 Photo by Emili Muraki
UG: One thing that's always amazed me about your story is just how young you were when you started. You played your first gig at the age of 11, recorded your first album with Scorpions at 15. What impact did entering the music business so young have on you?
I don't think I entered any business! I just loved playing the guitar. I remember my mother once talking with her friends in the street. She said "guess what Michael wants to become? A professional musician," and they all laughed their head off. To me, being a professional musician meant nothing more than occupying the rest of my life playing guitar. It wasn't a business at all, it was just having fun playing music. I was always excited about building rehearsal studios, going to the hospital to pick up mattresses with Klaus Meine when I was 14. I was always designing – I remember designing the Scorpions logo – I was just so into it.

My dad was an architect, and I remember going to his office to pick up wood to build separations in our rehearsal studio. I was so excited to be traveling in the bus, playing music; it was just pure joy. I never thought, "How am I going to earn money with this?" That actually happened by itself. I never had to worry about money. There was always money somewhere; there was always something to eat. I had a girlfriend and she was working. And that little bit of money I made with the band, I put on the table… I never had a problem, and I never expected much. I didn't have dreams about cars and big houses. I just dreamt about music.
UG: What inspires you as a guitar player these days? How has your approach changed in the years that you've been playing?
It's always been exactly the same. I stopped listening to music when I was 17. I decided to stop copying people. Intuitively, I knew that's what I had to do. What I wanted to do was pure self-expression: the art of lead guitar was my passion. What you can do with a single string and distortion is endless. It's the best instrument for expressing a wide range of emotions; from drama to humor to sadness… to express beauty, to express the sound I heard when I first heard Black Sabbath. That's really when it started. When I was 14 years old I head Led Zeppelin, Deep Purple, Johnny Winter, Rory Gallagher… that's when the distortion started and that's when I realized what I could do with this.

I developed within eight years. From the first Scorpions album when I was 15 all the way up to "Strangers in the Night" and "Lovedrive"… at 23 years old, I had developed the first part of my musical career. I was able to make a choice between staying up there and doing more of the same – I was successful, I was famous, I was voted number one guitarist – or splitting the scene and experimenting with music and learning more about life, which is what I did. That was my middle years.

When I started MSG, I didn't want to be anything big, I just wanted to experiment. But then Peter Mensch found me and came up with all these great things he wanted to do. I went from wanted to leave the scene, but ended up being re-connected to it by Peter Mensch who had big business in mind. But at least I made one step in the right direction, which was to lead my own band. I became my own man, I had my own recording studio, became my own manager.

At one point I almost joined Deep Purple, but I had to say to myself "no Michael, stay away from that kind of stuff!"

Then, in 2008, I had the urge to be onstage again. I had stage fright all my life until that moment. I took that as a sign to be back in the loop and that was the beginning of my third stage. That was celebration time. Now, I carry on making my albums with the same drive I had when I was 23. I'm using heavy metal music as a screen. That's the style of music I like to express my lead guitar playing through. I don't want it to be pop music, disco music, soul music, I want it to be metal music: the art of lead guitar as pure self-expression. I've come back full circle. Things always happen when they need to happen. It's so enjoyable to be at this stage of my life.

In the early years, what I was doing was so unconscious. I didn't have any idea of what I was contributing to the music world until later when people started telling me that my guitar playing influenced them; guys like Slash, Metallica… oh, by the way, good old Kirk Hammett is helping us out with a guitar battle on the new album…
UG: Oh really?
Yeah, he's a big fan. I'm his favorite guitarist and he's become a good friend. He plays guitar in the biggest band on the planet so when he said he wanted to be part of this, I was more than happy.
UG: What would be the one piece of advice that you would offer to a young guitar player starting out today?
Choose whatever you choose because it's enjoyable. That goes for whatever job you choose to do, whether it's guitar playing or not. Never do it because you're dreaming of a big house or a big car; it's worthless. It happens to too many people – chasing that, the rat race; that's what makes people unhappy. In regards to guitar playing, I would say there is no right or wrong way. Just do it because you enjoy it. If you choose to be part of the trend and copy things, but you're having lots of fun with it, then do that. There's nothing wrong with that. If you prefer to self-express doing something really beautiful… I decided to do it and I became an original as a result. Each path has different rewards and there's no right or wrong. Just make sure you enjoy what you're doing.
"Michael Schenker Fest" featuring original MSG vocalists Gary Barden, Graham Bonnet and Robin McAuley, tour the UK in November.
Dates include O2 Shepherd's Bush Empire (Nov 2), O2 Academy Sheffield (Nov 3), O2 Ritz, Manchester (Nov 4), and Hull City Hall (Nov 5)
Tickets – www.ticketmaster.co.uk, www.michaelschenkerhimself.com 
Source link