Dark curly hair, little beard, guitar, small brown cigarette in the mouth. Sounds familiar, right? This time I want to talk about another musical genius and also a great collaborator – Jack White.
Jack was born in Detroit 42 years ago, and he is still rocking hard. Everyone knows "Seven Nation Army," one of his greatest and most popular tunes ever, made by his first commercially-successful band The White Stripes. It has been shaking stadiums and clubs for years. Stylish red and white covers of their albums, unforgettable riffs, and vocals, inscribed the duo into the 21st-century music history. Unfortunately, after 14 years of hardcore touring and making one great album after another, they broke up in 2011. But Jack White wouldn't be Jack if he stopped at that point. He started his solo career and released his sharp debut called 'Blunderbuss' only five years ago, in 2012, having a status of one of the greatest guitarists in history and owning his own label Third Man Records which issues numerous vinyls of freshmen's songs nearly every month. But what was he doing besides that? Oh yeah, he made two supergroups.
The Raconteurs
In the summer of 2005, Jack met his old friend, a solo artist Brendan Benson and wrote a song which later would turn into the first single of the band called The Raconteurs, "Steady As She Goes." Benson and White were joined by Jack Lawrence and Patrick Keeler from the band The Greenhornes and released their first album "Broken Boy Soldier" in spring of 2006. Two years later the second album followed, "Consolers Of The Lonely." The melodies, the guitars, Jack's voice accompanied by Benson's backing vocals, it was different from The White Stripes but astonishing in its own way. Even film director Jim Jarmusch was so impressed by their music that shot a video for their first single. Until that day I personally think that "Broken Boy Soldier," the title track from their debut, is one of the greatest anti-war songs ever. That band definitely helped Jack to expand his ideas and to try something new. In an old Rolling Stone interview, Jack said that being in that band after years of White Stripes was like getting into a big, luxury car after years of driving a bicycle. Now they are on a hiatus, but Benson has recently told the press that they still hang out together and that may be they will record the new material in the future.
Brendan Benson once stated, "We're just a group of old friends making music together." But the media insisted on calling them a supergroup, which, to be fair, is absolutely justified. 
The Dead Weather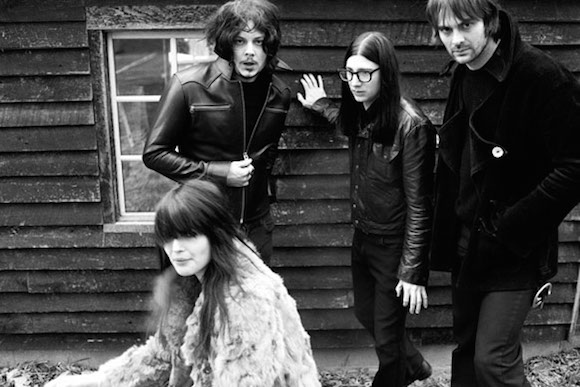 The second step for Jack was forming a band called The Dead Weather. Their sound is honest, bluesy and heavy. Alison Mosshart, the voice of The Kills, Jack White, Jack Lawrence (who made his way to The Dead Weather right after finishing his journey with The Raconteurs) accompanied by Dean Fertita from Queens Of The Stone Age made three records full of heavy riffs and Mosshart's meaningful and dexterous verses. It all started in 2008 during The Raconteurs tour, when Mr. Jack lost his voice due to the illness and Alison agreed to replace him during some of the gigs. The chemistry between the two artists has led to the creation of the supergroup. Just check that live performance and feel that contagious late-night vibe.
But what stands behind Jack's wonderful skill to generate new musical ideas and create supergroups? First and foremost, it's hard work. But besides that, he has a pretty strict and old-fashioned way of seeing things. In his interviews, he often expressed the idea that new technologies in the current age of social media and entertainment industry made people less creative. His famous advice to the young men is, "Quit playing video games, throw away the auto-tune program and cut three strings off your guitar." Jack is also a big believer in the whole 'just do it' philosophy. "There are many people out there who will tell you that you can't. What you've got to do is to turn around and say: "Watch me."
This is Part 2 of the supergroup series.
You can read about Josh Homme's supergroups in my previous article. 
Source link