On September 16th 1977, 29-year-old former T. Rex singer Marc Bolan died in a car accident. He was a passenger in a purple Mini 1275GT driven by his girlfriend Gloria Jones as they headed home from Mortons drinking club and restaurant in Berkeley Square. Gloria was driving but suddenly lost control of the car and hit a tree. Neither of them were wearing seatbelts. Bolan was killed instantly, while Jones suffered a broken arm and broken jaw and had to spend time in a hospital. She did not learn of Bolan's death until the day of his funeral.
Unfortunately, the good name of Marc Bolan is not remembered as often as it should. However, back in the day, Marc and his band T. Rex were considered a real British scene phenomenon, because of the distinctive vocals, surreal lyrics, vivid and evocative scenic image, and of course, the unforgettable psychedelic motifs.
For a long time, nobody knew who Marc Bolan was. Mark Feld (his real name) was born in Hackney, east London, on 30 September 1944.
In 1959, after graduating from school at age 14, Bolan formed his first band called Suzle And The Hula-Hoops. They recorded several demos, and Marc got himself his first deal with Docce Records in August 1965. His debut single was called "The Wizard."
Bolan created Tyrannosaurus Rex, his own rock band together with guitarist Ben Cartland, drummer Steve Peregrin Took, and an unknown bass player. The band released three albums filled with eccentric folk songs, inspired by the mythology of JRR Tolkien.
After replacing Took with Mickey Finn, Bolan let the electric influences come forward even further on "A Beard of Stars," the final album to be credited to Tyrannosaurus Rex.
Becoming more adventurous musically, Marc bought a modified vintage Gibson Les Paul guitar (featured on the cover of the album T. Rex). In 1970, the world heard the first major Bolan's hit single – "Ride A White Swan." A year later the song peaked at number two in the UK charts. At this time Bolan shortened the group's name to T. Rex.
Bolan's favorite guitar was his white Fender Stratocaster. In fact, he had two of them. One had a cool tear-shaped sticker on it. Apparently, "Ride a White Swan" was dedicated to Bolan's favorite guitar.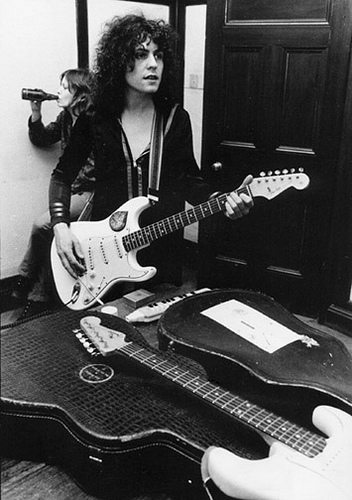 Bolan's next album "Electric Warrior" brought a worldwide success to the band. Since then, the band's songs never left the top lines of the charts. T. Rex were so successful that Ringo Starr decided to make a documentary about the band, called "Born to Boogie."
T. Rex's third album "The Slider" was released in July 1972. The band's most successful album in the US, The Slider was not as successful as its predecessor in the UK, where it peaked at the fourth spot.
Since 1973, the success of T. Rex began to decline. Bolan disappeared from the public eye for a few years, but in 1977 he returned to concert activity. Bolan even started his own musical TV show called "Marc."
His longtime friend and sometimes rival David Bowie was the final guest on the last episode of the show.
A few quotes by Mark Bolan
"Sometimes I get a funny feeling inside me that I shan't be here very long, and I'm not talking in terms of things like success. It frightens me sometimes."
"It's like if you take acid, it burns out brain cells, and they don't regrow. Rock is like that it has killed beautiful people musically, physically and mentally."
"I feel there is a curse on rock stars."
"Be strong and follow your own convictions. You can't assume there is a lot of time to do what you like. This is what David Bowie is afraid of: that he will die before he gets a chance to make a real strong contribution."
"There is so little time for us all; I need to be able to say what I want quickly and to as many people as possible."
"I am the 'Cosmic Dancer' who dances his way out of the womb and into the tomb on Electric Warrior. I'm not frightened to get up there and groove about in front of six million people on TV because it doesn't look cool. That's the way I would do it at home."
A few quotes about Marc Bolan
David Bowie:
"I can tell you about the time I first met Marc Bolan, who became a very, very good friend of mine. We actually met very early on in the 60's before either of us were even a tad known.
We were just two nothing kids with huge ambitions. We both had the same manager at the time and we met each other firstly, painting the wall of our then managers office."
Tony Blair:
"Marc Bolan used to come on stage with just his acoustic guitar, and this other guy played the bongos, and he would sort of sit cross-legged and just play. And suddenly they went electric, and it was an amazing thing, a complete revelation. The audience changed from being, you know, hippies to screaming girls. I was never completely wild about their stuff – did I listen to it outside of parties and dances? Probably not – but it did interest me because I was always interested in trends. I think I was analyzing it the whole time. But what Marc Bolan did I think was he crossed over between what – in inverted commas – "cool" people listened to and what people danced to. There was a time when the uncoolest thing a band could do was release a single, and T. Rex made the single respectable again."
Johnny Marr:
"The influence of T-Rex is very profound on certain songs of The Smiths i.e. "Panic" and "Shoplifters." Morrissey was himself also mad about Bolan. When we wrote "Panic" he was obsessed with "Metal Guru" and wanted to sing in the same style. He didn't stop singing it in an attempt to modify the words of "Panic" to fit the exact rhythm of "Metal Guru." He also exhorted me to use the same guitar break so that the two songs are the same!"
Source link