The Honey Toads release their new music video today, called "Send Me Out." The Honey Toads hail from Petaluma, California. The band is made up of Nick Cafiero on vocals and electric ukulele; Joe DeMars on bass; Jack Hogan on guitar; and Dominic Bergamini sits in the pocket.
Stylistically, The Honey Toads' sound is indie rock, featuring complex melodies, poetic lyrics and, occasionally, a bit of nostalgia. The band's sound is nastily tight and singularly imaginative.
"Send Me Out" starts off with a thrumming guitar riff, followed by a solid groove as the bassline and drums join in. The melody flows with a muted energy reminiscent of the Talking Heads, ebullient but simultaneously assuming a somber component. On the chorus, the guitar takes on a sparkling flavor that highlights the tune's sonic colors. A pause, followed by a thumping bass transition kicks the music up another notch. The layered harmonics of the instruments ramp up and the music radiates intensely, but still with a subdued element, as if under careful constraint. It's effective and powerful.
Cafiero's voice is rich and evocative, and elusively familiar. It exudes an informal, elegant quality that's intimate and amicable. The latter quality provides the feeling of familiarity. In addition, there's a quixotic austerity to his phrasing and inflection that makes it an easy voice to listen to. Every once and while, I picked up remote nuances of David Byrne in his voice, but on the other hand, his voice is nothing like Byrne's. In any event, it's a great voice, with beau coup range and projection, but at the same time there's an elastic texture to it that emanates affability. Put simply, it's the kind of voice you want to hear more of.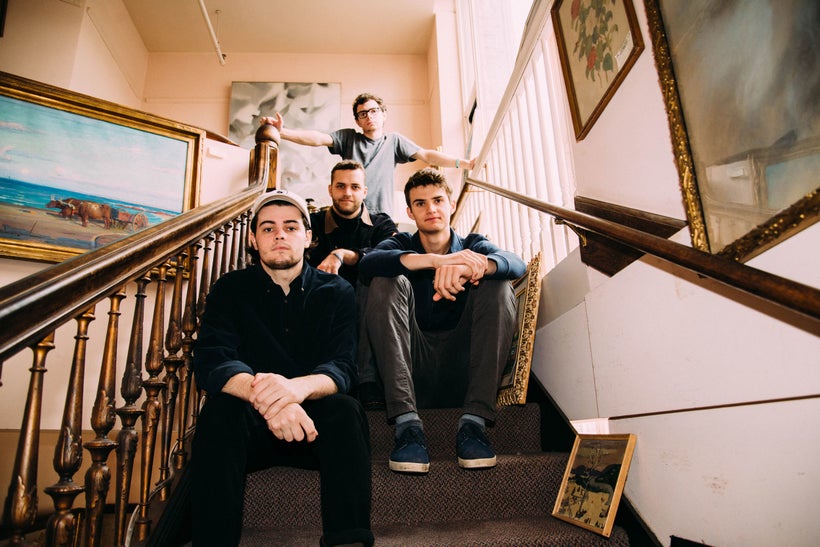 The lyrics of "Send Me Out" present a musical conversation with the past, as a young man waxes nostalgic over an old flame. Wistful and sentimental, he realizes it's time to move on, yet he is stymied by the psychic proximity of old memories.
The video conveys a surreal essence that's simply excellent. It opens in a suburban neighborhood, where everyone walks around with helmets shaped like metal fishbowls on their heads. The video cuts back and forth between the metal heads and the band playing in room in house by the sea. They, too, wear metal buckets on their heads. The protagonist metal head looks through old photos and recalls his former love. He remembers the happy times together. Then he recalls a specific moment, when they are seated above the shoreline, the ground crumbles beneath his feet and he falls down a hill, rolling into the surf – a cusp of transition.
The Honey Toads definitely have it going on! In a big way. "Send Me Out" contains an infectious melody, memorable lyrics, tight instrumentation and Cafiero's elusively tantalizing voice. I've already downloaded "Send Me Out" to my playlist. I hope The Honey Toads will be dropping an EP or album soon, so I can get my next sonic fix.
Find out more about The Honey Toads here and here.