Having recently signed his first record deal with Ole, Eric Ethridge is finding his own sound in the shift towards an expanding country music genre — but first, he is taking a final walk back down memory lane to where it all began.
The Sarnia-born Western University alumnus and country artist loved rock music growing up, yet every song he wrote turned out to have a country vibe when he played it. After studying kinesiology at Western, Eric went to school in Toronto to become a chiropractor. But now, he's quitting his chiropractic job to move to Nashville, the epicentre of the country music world, where his new record label is located.
Like his music styles, Eric's personal style might not be typical country. He sits in a coffee shop wearing ripped, black skinny jeans, dark brown boots, a black T-shirt, a black leather jacket and a black cap.
Eric's musical journey began while living in London, playing for the Western football team. He had played at coffee houses around campus, but he wanted to perform more seriously.
"I really wanted to play at Jack's," he said. "One night, I was walking down the street, and I just walked in and asked how I can get a gig to play upstairs." It turned out he was talking to the owner, who offered him a slot six weeks later, and it became Eric's weekly gig.
Now 29 years old, he began finding himself in music 10 years ago. Eric wanted a different take on country music, with rock guitars and pop aspects.
"Then Florida Georgia Line came out with 'Cruise,' " he says. "I was already wanting to create something weird and different, and then they did it."
"I think all my songs are a little weird," he says, referring to his self-titled first EP, released back in June. 
"You're not going to be able to please everyone," Eric says. The song has a clear country vibe from the guitars, but it also incorporates various pop aspects from the piano, as well as synthesized sounds.
His music tastes and inspirations vary from Halsey, Justin Timberlake and Sam Smith to Chris Stapleton, James Arthur and John Mayer.
"There are a couple songs that I've written recently that are John Mayer-esque," he says, "but I can't compare myself with one artist."
Eric is all about being open to changing styles. He references Keith Urban as a successful example of someone always switching it up. Urban's newer songs, "The Fighter" with Carrie Underwood and "Coming Home" with Julia Michaels, both portray different sounds of country-pop.
Eric describes his band as "country-pop arena rock." His album is first and foremost identified as country-pop, influenced by its producer, who has worked extensively with Canadian band Hedley. Through this, elements of Hedley's arena rock style were added to Eric's songs.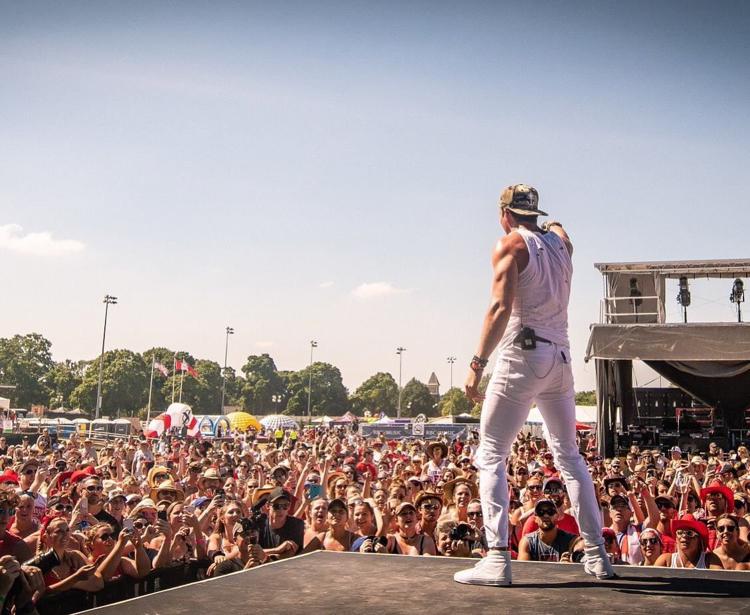 "I love a lot of pop and rock influences," Eric says. This is clear with his song "Girl On Fire," which features a 45-second electric guitar solo. He believes that his diverse sound opens him up to a larger audience. "It all started with Sam Hunt," Eric said. "His style was not strict country, and it brought in a lot of people who didn't like country music, but suddenly they liked Sam Hunt."
Eric doesn't believe that there will ever be a return to traditional country music. "Once the toothpaste is out of the tube, you can't put it back in," he says.
The story-telling aspect of his songs are the main country genre indicators. He can connect to the audience with songs like "If You Met Me First," where he tells the story of two people who are in love but cannot be together.
"It's still hard for me to sing because I've been through that, and it's amazing how many people reached out to me who were going through the same thing," he added.
Eric gave one more classic London performance at Jack's on Nov. 23 before starting his musical career in Nashville. He enjoys being back on his old stomping grounds and is surprised that people want to hear more than his covers. "People are coming out and want to hear my originals. It's pretty cool," he says.
His final performance marked his 10th and final year of playing in London on his journey to creating his own take on country music.
Source link