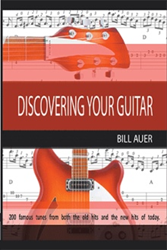 Bill Auer has been teaching guitar for three decades and he wants to extend the reach of his influence to help others make use of their guitars more. Through "Discovering Your Guitar: Famous Tunes before 2000 and After 2000 to Now" (published by Xlibris AU), the author aims to help guitarists have a fuller grasp of music. The author is launching a marketing campaign to expand the book's reach.

"Discovering Your Guitar" includes more than 300 pages of guitar techniques along with music theory and the history of guitar. Auer covers famous tunes with technical descriptions – old familiar tunes like "The Star-Spangled Banner," "Halleluhjah" and "Sweet Child of Mine" as well as more modern tunes such as "American Idiot," "Rolling in the Deep" and "Blurred Lines." A number of the transcriptions include several lines of guitar tablature and chord charts. Auer includes details about scales and their uses as well as information on improvisation and developing soloing techniques. Touched upon briefly is the singing advantages with the use of capo, bar or transposing as well. In addition, Auer explains how to play numerous tunes in various manners by using different keys or other skills.

Auer hopes that readers will gain both knowledge and enjoyment from his book. He would also like for people who read his book to send feedback and asks readers to tell him other tunes they want him to cover. Contact information is available in his book.

An excerpt from "Discovering Your Guitar":

To paraphrase a great quote found on the net, 'A teacher shows where to look but not what to see'. After more than thirty years of teaching guitar and music to guitar students, I am still developing new ways of teaching how to learn guitar speedily. After working out all of the two hundred transcriptions, I realised that more than 50% of these tunes were made up from combinations of 'Two, Three, Four, and Five Chord Wonders'.
Source link