Shania Twain's team said in her early years she had chosen the name Shania because it translated to "on my way" in Ojibwe, the language of her late stepfather's Native American tribe. Though Twain's biographer later noted that there's no analogue for "Shania" in Ojibwe, it was an exceptional bit of branding: Twain's narrative is one of rare upward mobility from hardscrabble beginnings to first-name-only fame.
Along the way, Twain forged a singular artistic path. The 1990s saw uncommon prosperity and changing points of view among women in country music – while the "Victim Queen" persona of Reba McEntire reigned in the early part of the decade, Twain later foregrounded a woman's agency in hit singles like Any Man of Mine and Man! I Feel Like a Woman! Backed by her then husband Mutt Lange's arena-rock production, Twain's aesthetic and her perspective were unlike anything that had come before. In Heartaches by the Number, the writer Bill Friskics-Warren likened the opening of Any Man of Mine to the detonation of a bomb. and described Twain's sound as "at once more pop and more country than the Nashville norm" – something no other artist since has been able to replicate with the same verve.
But Twain's journey has taken her far from the recording studio. Her last proper studio album, Up!, is nearly 15 years old, and she's released only a handful of individual tracks – singles like 2011's Today Is Your Day and a lovely cover of Coat of Many Colors from a 2003 tribute album to Dolly Parton – in the interim. As she prepares for this week's release of Now, it's unclear how the artist who has sold more albums than any woman in country music history will fit back into a genre she reshaped a generation ago.
Twain's last top 10 hit on country radio was a full 13 years ago, when Party for Two, a duet with a then unknown Billy Currington, peaked at No 7. The last of her No 1 hits, Honey, I'm Home, came all the way back in 1998. Even at the time of Twain's biggest radio hits, it was rare for a woman over the age of 40 to land singles in the top 10 with any consistency.
While Twain far outsold all of her contemporaries at the time, country radio's biases against women have only become more entrenched in the two years since Keith Hill launched the #SaladGate controversy by referring to women as the "tomatoes" in the salad of country radio. This week's country radio chart includes only four women in the top 40 (Carly Pearce, Maren Morris, Miranda Lambert and Kelsea Ballerini, in descending chart position). Of those women, Lambert is the oldest, at 33.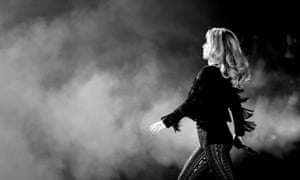 Twain is now 52. To say that both her age and her gender augur ill for a comeback on the radio is an understatement. Indeed, the first single from Now, Life's About to Get Good, peaked at No 33 and dropped off the chart in under two months.
The tepid response from country radio's increasingly myopic programming directors isn't necessarily a surprise. Perhaps more noteworthy is how little influence Twain's music has had on the songs that are in heavy rotation. She and Lange prominently featured traditional country instruments in their outsized pop-rock arrangements, but many of today's most successful pop-country acts – Sam Hunt, Thomas Rhett, Morris and Ballerini – avoid even token genre signifiers in their production, which draws more heavily from the adult top 40 and R&B of the early part of the century. Moreover, Ballerini's output has been criticized for how she has adopted the same regressive, limited view of women that characterized the peak of bro-country and has lingered into the genre's current trends. Carrie Underwood is perhaps the only contemporary country artist whose artistic identity is directly within Twain's lineage, but she's currently between album cycles.
Twain is, at the moment, an artist without a country. Her fanbase remains fiercely devoted to her, and Now seems poised to post robust sales out of the gate, though no one is expecting another sales juggernaut like Come On Over. But the longevity of Now as a bona fide comeback will require that her songs find an audience that connects to them. That connection was always Twain's strength: the plainspokenness of her songwriting, coupled with her relentless optimism and surefooted confidence, made her music relatable.
But even when genre purists were at their loudest in railing against her, Twainhas never faced the kind of obstacles that are set up against her now. Though it would reverse some of its most problematic trends were it to embrace Twain in her comeback bid, country radio is probably a dead end. The adult top 40 and adult contemporary formats have morphed into nothing more than repertories for hits that have been on recurrent status for months. Her music is still far too pop-leaning to gain traction with the growing Americana crowd. If Twain is still on her way, it's no longer clear where she has the options to go.
Source link