You can find more information about Adrian Smith's career, influences, gear and settings in the UG wiki article.
Adrian Smith incorporates all the classic metal guitar player's techniques: alternate picking, legato, hammer-ons, and pull-offs, sweep picking, slide playing and more. What separates him from the rest of the pack is that he uses all of these techniques in a musical context with no exaggeration. He is heavily influenced by blues, so he uses the pentatonic scale a lot, but he also enjoys ripping a fast phrase in a Phyrigian mode from time to time.
While Adrian Smith was playing in Iron Maiden, he progressed with his solos on every album, experimenting with different sounds and techniques. His playing features alternate picked staccato descending lines, as well as legato playing that gives a fluent touch to his solos. Sometimes he composes tapping solos, a good example of which you can find in the song "Children of the Damned" from The Number of the Beast album.
Here is a video of Iron Maiden playing "Children of the Damned" live at Wacken 2016. At the 3:10 mark you can witness Smith's use of tapping, as he starts the solo.
Adrian uses sweep picking not only to speed up his solos, but also to play arpeggios of the background harmony in time, in order to achieve that hook he has in his solos.
2:14 into the Bruce Dickson's "Man of Sorrows" official video Smith starts the solo, showcasing his sense of composing a solo that follows the chord progressions.
He also uses tremolo picking a lot.
The main guitar theme in the Iron Maiden's "Wasted Years" is the tremolo picked riff that is one of the most famous intros in hard rock and heavy metal music. The solo that starts at 3:16 is a classic Adrian Smith trademark solo, that showcases his stylish use of the whammy bar to add a different kind of vibrato and to spice up the phrasing.
Adrian Smith's Guitars
Even though he used a variety of electric guitar models over his lengthy career, Adrian Smith is closely associated with a Fender Stratocaster or an "S" type guitar.
Check out the Jackson Adrian Smith San Dimas signature series: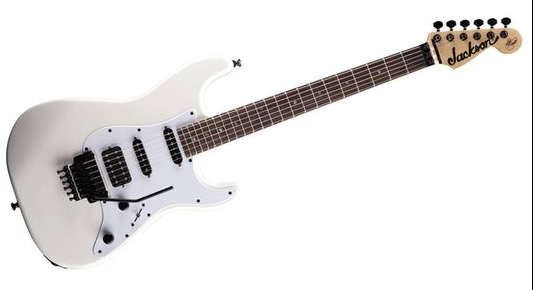 This is the signature model that Smith designed for Jackson. The blueprints for this guitar were presented back in the '80s when Iron Maiden were recording their Somewhere in Time album. During this time the first prototype was made, and Smith has used it practically ever since.
It features a Stratocaster type body, called the San Dimas, that was patented by Jackson. It is made out of Alder and finished with a gloss polyester coating. The neck is a one-piece bolt-on made out of maple with a scale length of 25,5 inches and 22 frets on an ebony fingerboard. On the electronic side, it features a DiMarzio Super Distortion humbucker in the bridge position with the Samarium Cobalt Noiseless single-coil pickups in the middle and neck positions. All pickups are controlled by a five-way switch pickup selector and master volume and tone pots. It has locking tuners and a Floyd Rose tremolo system. It is made with a different look, black pickguard on a white finish.
This guitar is made to be light and very versatile because Smith plays a lot of clean passages, apart from playing galloped metal riffs.
Fender Stratocaster
Here is the Fender Strat in action at a live show during the Death on the Road tour: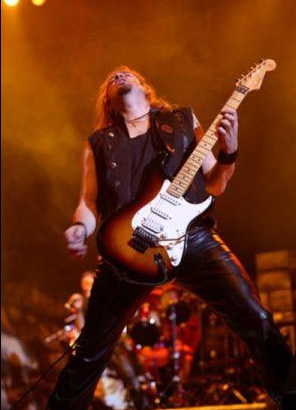 Adrian Smith owns a Fender Stratocaster that he equipped with a Floyd Rose locking tremolo system, locking tuners and nut. It has an HSS pickup configuration, which stands for humbucker, single-coil, single-coil pickups. This configuration is the same on his Jackson made signature series. It has a maple neck, with 22 frets and a 25,5-inch scale length. He played when he returned to Iron Maiden back in the 1999-2000's and was his main guitar until Jackson made him his San Dimas model.
Gibson Deluxe Goldtop Les Paul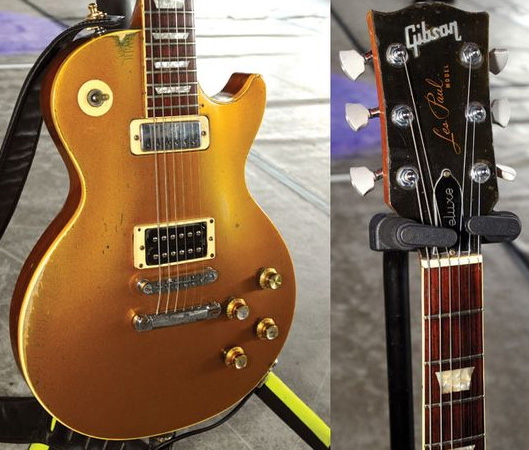 Smith bought this guitar at Woolworth's when he was seventeen years old. He purchased it for 235 pounds, and by his own words, he had to work on a construction site for the whole summer to afford it. Very little is known of this guitar, but the pickups he uses in it are DiMarzio Super Distortion in the bridge and a mini humbucker in the neck position from a Gibson Firebird model. It has a three-way toggle switch between the neck, middle and bridge positions with the four pots that control the pickups. He still plays it live sometimes and in the video clip below he is saying that it's probably the best guitar he ever had. The video was made during a recording session for the A Matter of Life and Death album.
Other guitars
Smith used various guitars during his career.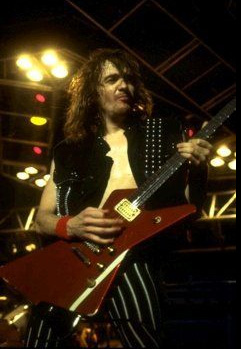 During his first tenure in Iron Maiden, he played the Ibanez Destroyer. You can hear it on the "Number of the Beast" and "Piece of Mind" albums. This guitar has a body that is similar to a Gibson Explorer in its design because it features the trademark Ibanez headstock.
Smith also uses the Gibson SG standard model. Nowadays, you can see/hear it when he plays "The Number of the Beast" live. He keeps it in drop-D tuning to add to the heaviness of the track live.
During the following "Powerslave" album, apart from his trusty Goldtop Gibson Les Paul, he played and endorsed Lado Guitars.
The company was founded in Canada by Joe Kovacic at the beginning of the '80s. Smith played the Lado Earth model, which was (again) shaped similar to a Gibson Explorer but had deep cuts and pointy edges.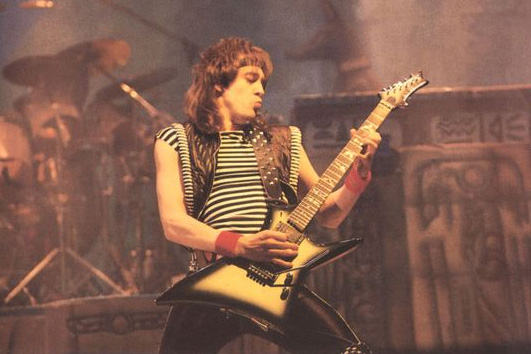 He had also used a Jackson King V and sometimes the Gibson Black Beauty Les Paul for playing the detuned metal riffs on Bruce Dickinson's solo albums.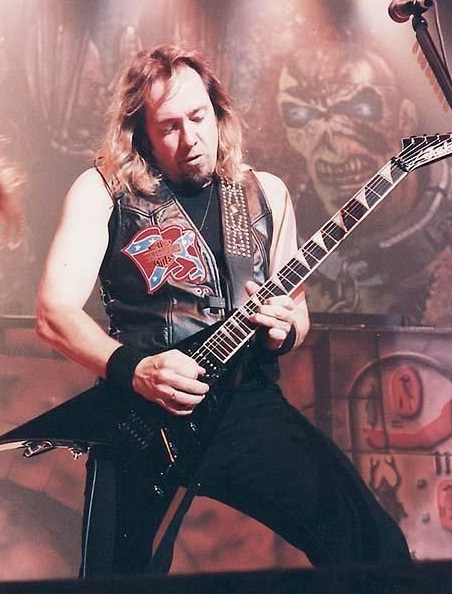 He also could be seen playing the double-necked Jackson model on live shows with Iron Maiden in 1999.
You can find more information about Adrian Smith's career, influences, gear and settings in the UG wiki article.
Source link